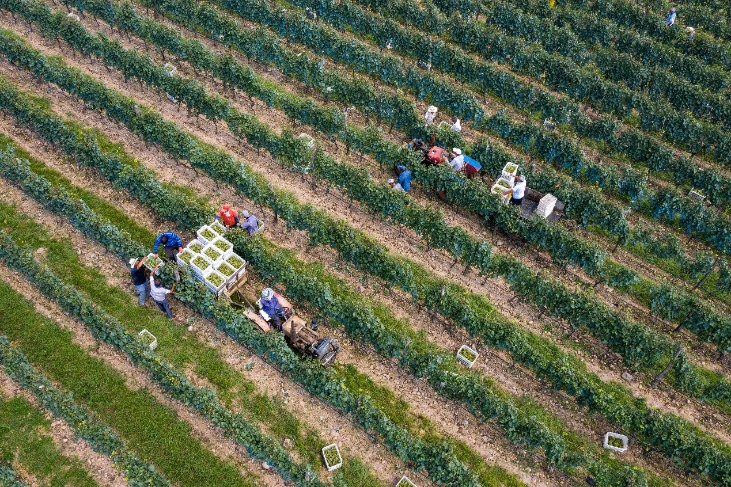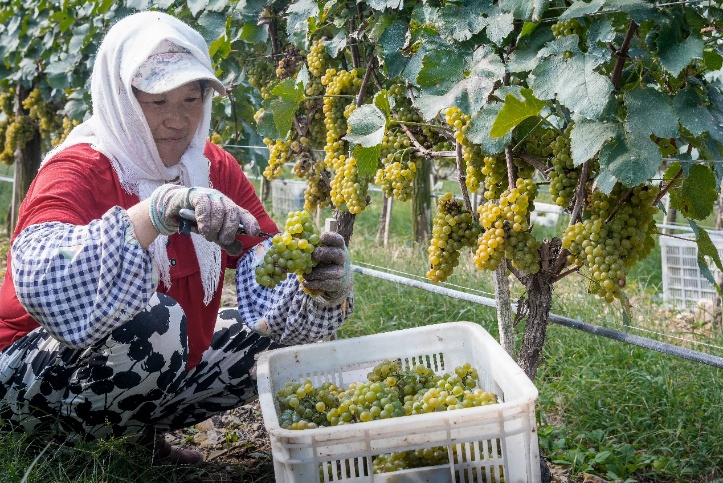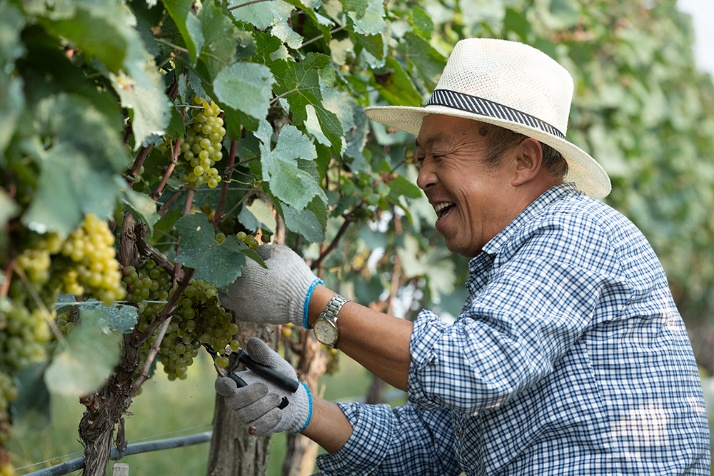 On October 22, 2020, we completed all grape harvesting this year. 2020 is a challenging year for the grape growers. However, with our reasonable and effective management, we finally achieved another excellent vintage.
This spring, the rainfall is relatively balanced and the temperature is moderate, which ensures the neatness of the buds of the vines, and the growth of various vines is stronger than in previous years.
May to August is the growing period of the vines. During this period, there is sufficient rainfall in each month, and the rainfall has been increased compared with previous years, and the air humidity is high, resulting in the occurrence of downy mildew, which is more serious than in previous years. With our reasonable disease prevention and control, the disease is effectively controlled. This year, there were 3 severe hailstorms in Laixi of Shandong, and we are very fortunate to have avoided all these 3 hailstorms.
August to October is the grape ripening period, during which the rainfall is 0mm. We use the drip irrigation facilities to properly irrigate the vines to ensure the normal growth of the vines and the grapes; at the same time, the sufficient light and the large temperature difference between day and night, which help lead to the high-quality grapes. However, this year's average temperature has dropped by about 3°C compared to previous years, which has caused the grape ripening period to be delayed by 7-10 days.
On August 28, we began to harvest Chardonnay, officially kicking off the 2020 harvest season. According to the maturity of different plots of Chardonnay, we harvested in two batches.
After finishing the harvest of Chardonnay, we continued to harvest the other grape varieties, mid-September-Syrah, end of September-Merlot, early October-Cabernet Franc, Cabernet Gernischt and Marselan, mid-October-Petit Verdot and Petit Manseng. At last, we harvested Cabernet Sauvignon and finished all the grape harvesting and processing work on October 22nd.
In 2020, the overall quality of the various grape varieties of Chateau Nine Peaks is very good, especially our Chardonnay, Cabernet Gernischt, Petit Verdot & Marselan with the outstanding performance and Cabernet Franc and Merlot have the second highest quality. At the same time, the quality of Cabernet Sauvignon has also improved a lot compared to previous years.
When the Chardonnay was harvested, the sugar and acid reached a good balance, the sugar content exceeded 198g/l, and the acidity remained around 6.5g/l. When the red grape varieties were harvested, the sugar content generally exceeded 245g/l, the total acidity was 6.0g/l, and the phenolic substances accumulated and matured well.
This year, we harvested a total of 471 tons of grapes, of which 96 tons were harvested from white grapes and 375 tons from red grapes. It is estimated that 400,000 bottles of wine can be produced from the vintage of 2020.